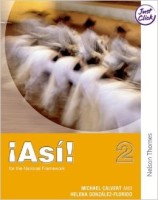 Asi! 2 – Student Book (Higher)
Michael Calvert & Helena Gonzalez-Florido
Published:        Apr 2006
Publisher:        Oxford University Press / Imprint: Nelson Thornes Ltd
ISBN:                9780748791729
Format:            Paperback | 160 pages
Dimensions:    218 x 272 x 8mm | 480.82g
Product Description
Don't let them drop Spanish!
A major growing concern in schools is the decline in the number of language students and the impact this could have on your department. Which is why we've developed ¡Así! – the only course to captivate all your students and help keep Spanish alive in your school!
Features
The course that keeps all your pupils on board!
¡Así! provides full differentiation for all your pupils no matter how much support they need. There are stepped activities in the core units, a self-access section in the Student's Book, and lower and higher workbooks.
From Year 8, the course also provides twin track Students' Books.¡Así! offers a unique solution for the less able: it is written specifically for National Curriculum Levels 1-4+ so your lower ability students are able to achieve the learning objectives.
The course that takes motivation a step further!
¡Así! is fully integrated with a comprehensive ICT package for teachers and students all in one resource, bringing a new motivational experience into the classroom.
The ¡Así! ICT Resource will enhance teaching and learning through its unique blend of print and ICT delivery.
The Framework course that makes your life easier and lets you teach!
The National Framework is here to stay. Whatever your teaching style, ¡Así! gives you the space, or the support, to teach the Framework.
¡Así! fully covers the objectives and teaching requirements of the National Framework for Languages.
It facilitates a skills-based approach, encourages thinking skills and independent learning and provides numerous opportunities for assessment for learning.
¡Así! provides clear practice and progression: grammar, language skills and language learning strategies are introduced in context and practised thoroughly before moving onto the next stage.