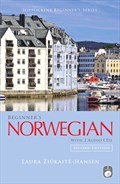 Beginner's Norwegian with 2 Audio CDs
Laura Ziukaite-Hansen
Publisher:  Hippocrene Books
ISBN:          9780781812993
Format:      Mixed Media
Pages:         293
Product Description
Norway's population is growing fast, as well as the demand for Norwegian speakers. Norway has the fourth-highest per capita GDP in the world and its very high standard of living continues to attract business development and immigrants.
This popular introduction to Norwegian has been revised and updated, making it even easier to learn at home or in the classroom. Each lesson opens with a dialogue of an everyday topic which is then broken down to study the vocabulary and grammar. Cultural notes give a proper context, exercises help the student master the skills, and the audio CDs reinforce the lesson by helping the student learn the language as spoken.
The new edition includes:
Thirteen lessons covering everyday situations complete with vocabulary, dialogues, and exercises
Introduction to Norwegian history, culture, and language
New pronunciation section on Norwegian diphthongs
Easier-to-read Norwegian-English and English-Norwegian glossaries
Two-way glossary of expressions
Answer Key for self-correction
Two audio CDs with native Norwegian speakers
About the author(s)
Laura Ziukaite-Hansen has a BA and an MA in Scandinavian Studies from Vilnius University and the University of Madison-Wisconsin. She resides in Boston, and recently graduated from Harvard University with an MA in Management. She works as Director of Executive Programs at the Massachusetts Institute of Technology in Cambridge.