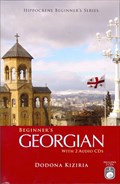 Beginner's Georgian with 2 Audio CDs
Dodona Kiziria
Publisher:  Hippocrene Books
ISBN:          9780781812306
Format:      Mixed Media
Pages:         291
Product Description
Beginner's Georgian with 2 Audio CDs is designed for both classroom use and self-study. Each of the 13 lessons opens with a dialogue about everyday topic, followed by vocabulary lists, explanations of grammar, and exercises. Audio CDs accompany the lessons, providing correct pronunciation of the dialogues and vocabulary, with pauses for repetitions by the student.
Includes:
an exercise key

Georgian-English and English-Georgian glossaries

an introduction to Georgian language, culture, and history
This book provides an excellent foundaton for learning this unique and influential language of the Caucasus.
About the author(s)
Dodona Kiziria, a native of Tblisi, Georgia, received her Ph.D. in Slavic Languages and Literatures fromIndiana University. Now Professor Emerita, she taught Georgian language and culture, Russian literature, and Russian and East European cinema at Indiana University of Chicago and Duke University. In 2004, Kirizia was awarded honorary Georgian citizenship.