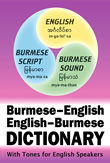 Burmese-English English-Burmese Dictionary
Nance Cunningham & Aung Soe Min
Publisher:         Paiboon Publishing
ISBN:                 9781887521581
Format:             Paperback  
Dimensions:    10.4cm x 14.2cm, 950 pages
Product Description
Burmese-English English-Burmese Dictionary: This practical Burmese-English, English-Burmese dictionary is designed to help English speakers communicate in Burmese, whether or not you can read the Burmese alphabet. All Burmese words are listed in both Burmese script and an easy-to-learn, English-like pronunciation system that fully expresses the Burmese sound, including the tones and everything else you need to speak and understand Burmese words correctly. Whether you are visiting Burma for a short while or studying the Burmese language, you will find most of the vocabulary used in everyday life, including basic medical, cultural, political and scientific terms.
Comprehensive pronunciation guide
Burmese alphabet guide included
Contains English, phonetic and Burmese
3 easy to use sections
Did you know? Most Burmese-English dictionaries either use Burmese script for the Burmese entries (making them difficult for westerners to use) or use only phonetic transliteration (making it impossible to look up a word in Burmese script). This dictionary solves these problems by dividing the entries into three sections.