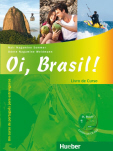 Oi, Brasil! Livro de Curso + CD MP3
Nair Nagamine Sommer, Odete Nagamine Weidmann
Publisher:         Max Hueber Verlag
ISBN:                 9783195054201
Format:             Mixed Media
Product Description
Oi Brasil! is a new monolingual course in Brazilian Portuguese published in 2013.
The book is designed to cover a beginners course in one volume for 150-180 hours so it is comprehensive and suitable for university or intensive classes.
This is a new, communicative course which teaches everyday language and themes in a motivating context with a global and diverse view of Brazilian culture.
Accompanied by an audio CD mp3.
Other components available are a Workbook with CD mp3 and Teacher's book.