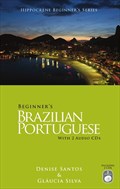 Beginner's Brazilian Portuguese with 2 Audio CDs
Denise Santos & Gláucia Silva
Publisher:  Hippocrene Books
ISBN:          9780781812535
Format:      Mixed Media
Pages:         350
Product Description
Brazilian Portuguese is written and spoken by over 180 million Brazilians as well as several million Brazilian emigrants, including over 1 million Brazilian Americans. Brazil is the most popular tourist destination in South America and received over 5 million visitors in 2010. The country is preparing to host the 2016 Summer Olympics Games– now is the perfect time to learn Brazilian Portuguese!
Intended for self-study or classroom use, Beginner's Brazilian Portuguese is ideal for students, travelers, and businesspeople visiting Brazil.
Includes:
An introduction to Brazil

Seven practical lessons with dialogues, vocabulary, and phrases

Review exercises with answer key

Brazilian Portuguese-English and English-Brazilian Portuguese glossaries

Two audio CDs of dialogues and vocabulary with recordings by native speakers
2 CDs
About the author(s)
Denise Santos is a language teaching consultant and materials writer with broad teaching experience in Portuguese and applied linguistics in Brazil and the U.K. She received an MA from the University of Oklahoma and a PhD from University of Reading (U.K.) and has authored and co-authored several foreign language textbooks. She currently lives in Reading, U.K. and can be found on her website.
Gláucia Silva is professor of Portuguese language and linguistics at the University of Massachusetts-Dartmouth. She received her MA and PhD from the University of Iowa. She is author of Word Order in Brazilian Portuguese and has authored and co-authored several articles about Portuguese. A native of Rio de Janeiro, she currently lives in Rhode Island.