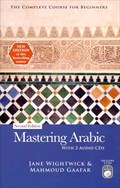 Mastering Arabic 1 with 2 Audio CDs
Jane Wightwick and Mahmoud Gaafar
Publisher:  Hippocrene Books
ISBN:          9780781812382
Format:      Mixed Media
Pages:         372
Product Description
This new edition of the bestselling Mastering Arabic is the most accessible and carefully-paced Arabic course on the market. It boasts an even more attractive design and layout, full of illustrations and helpful explanatory notes. This title is aimed at beginners with little or no previous knowledge of the language who want to understand, speak, and read Arabic confidently.
This course teaches Modern Standard Arabic, the universal language of the Arab world.
It includes: 
Twenty carefully-paced lessons with cartoon illustrations, exercises, conversation sections

Useful and relevant topics cover everyday situations related to family, jobs, introductions, eating and drinking, and much more.

Focuses on the geography, culture, and dialects of major Arab countries

Based on a tested methodology proven to work for self-study or classroom use

Two audio CDs feature correct pronunciation by native speakers and help learners start speaking Arabic right away.
About the author(s)
Jane Wightwick and Mahmoud Gaafar are experienced writers, publishers, and educators specializing in accessible language guides and learning materials. They have authored numerous titles including the Arabic Dictionary & Phrasebook, also published by Hippocrene Books. They reside in the U.K.