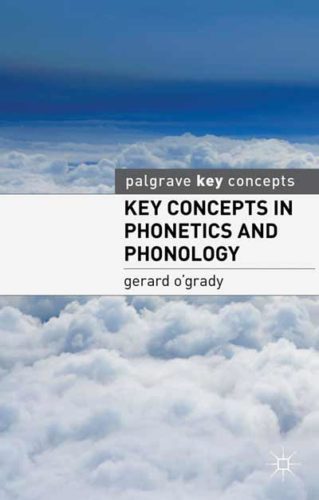 Key Concepts in Phonetics and Phonology
Gerard O'Grady
Published:        Jan 2013
Publisher:        Palgrave MacMillan
ISBN:                9780230276475
Format:            Paperback | Ebook
Product Description
ey Concepts in Phonetics and Phonology is a comprehensive and up-to-date A to Z of the core areas of phonetics and phonology. If you are new to these fields, this book will be an invaluable resource for quickly familiarizing yourself with the jargon and specialist terms.
Each of the 136 entries starts with a brief definition of a key concept and, where appropriate, more detail is given, along with an illustrative example. All entries are also cross-referenced to help you easily locate definitions for unfamiliar jargon.
This book contains fully referenced descriptions of the key terms in phonetics, particularly articulatory phonetics, and presents the main schools of theoretical phonology. If you want to know more, the extensive bibliography included at the back of the book will suggest where you can look for information to deepen your knowledge.