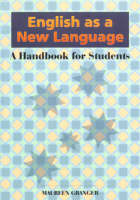 English as a New Language: A Handbook for Students
Maureen Granger
Published:         1995
Publisher:          Phoenix Education
ISBN:                 9781875695348
Format:             Paperback  
Dimensions:     109pp  h250mm
Product Description
English as a New Language Handbook is a practical, convenient reference for students learning English as a second language.
It covers all elements of grammar with clear explanations, descriptions and examples. There is special emphasis on the areas where students have the most difficulty, such as verbs and tenses.
The first three sections provide detailed information on grammar and punctuation.
Sections four and five concentrate on writing skills.
Section five contains writing exercises designed mainly for self assessment.
This is a book intended to be used throughout the day, to help solve problems with spoken or written English when they occur. However, it is also a suitable book for classroom use and course work.
English as a New Language Workbook contains 50 exercises providing intensive guided practice in English grammar, usage and punctuation, allowing students to apply, consolidate and develop their knowledge of English language.