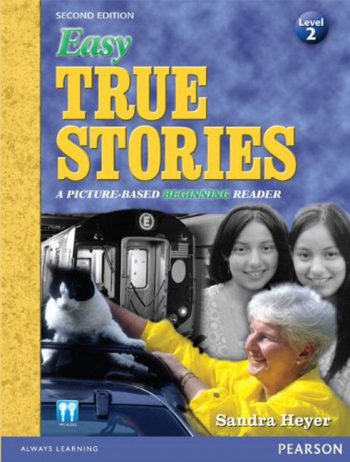 Easy True Stories: A Picture-Based Beginning Reader (Level 2)
Sandra Heyer
Published:        Sep 2012
Publisher:        Pearson Education
ISBN:                9780133041828
Format:            Paperback | 112 pages
Product Description
This edition presents 20 new or updated human-interest stories that are adapted from news sources all over the world. These captivating stories are told as simply as possible – almost exclusively in the present tense – and most stories are less than half a page long.
Easy True Stories, Second Edition, by Sandra Heyer, is a companion book to All New Easy True Stories, which is at the same level but features all new stories and exercises. These two parallel readers give students the option of lingering at the low-beginning level. They can go back and forth between Easy True Stories and All New Easy True Stories, or they can complete first one book and then the other.
Or teachers can use Easy True Stories one semester and All New Easy True Stories the next. That way, students who stay in a low-beginning class when their classmates move on to the next level can essentially repeat the class but with all new material. Combined, the two books offer 40 stories, giving teachers multiple opportunities to incorporate reading into their thematically-based instructional units.