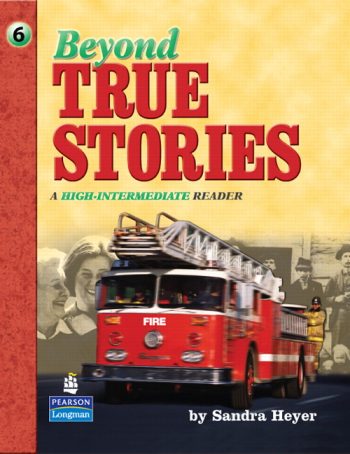 Beyond True Stories : A High-Intermediate Reader
Sandra Heyer
Published:        May 2003
Publisher:        Pearson Education
ISBN:                9780130918147
Format:            Paperback | 176 pages
Dimensions     200 x 250 x 10mm | 258.55g
Product Description
Would you believe:
A woman invests in stocks and makes $22 million-and then donates almost all of it to a university! A Japanese guard helps a prisoner of war survive World War II because of the shared love of an opera aria.
Beyond True Stories continues and expands the True Stories tradition with eight thematic units, each bases on a real-life, human-interest story. Each unit opens with A True Story in the News, followed by readings and activities that explore the theme. Beyond True Stories is a book students won¿t want to put down.
Features
Reading strategies and vocabulary building activities help to prepare students for academic work. A variety of texts-including first-person accounts, expository pieces, and graphs-provide practice with different kinds of reading. Thought-provoking discussion and writing prompts encourage personal expression and complete the reading process.