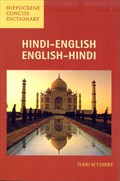 Hindi-English English-Hindi Concise Dictionary
Todd Scudiere
Published:         Nov 2009
Publisher:         Hippocrene Books
ISBN:                 9780781811675
Format:             Paperback
Dimensions:     355 pages
Product Description
Spoken by more than 800 million people, Hindi is the world's second most-spoken language. It is also one of the two official languages of India. This indispensable, portable guide provides all the words you'll need to communicate in Hindi.
Over 11,000 total entries
Incorporates both native Devanagari script and Romanization
Includes pronunciation guide and geographical appendix
Perfect for students, businesspeople, and travelers
About the author(s)
Todd Scudiere holds a master's degree in South Asian Studies from the University of Wisconsin-Madison. He is a graduate of the American Institute of Indian Studies' Advanced Hindi Language Program in Varanasi, India. He currently resides in San Diego, California.